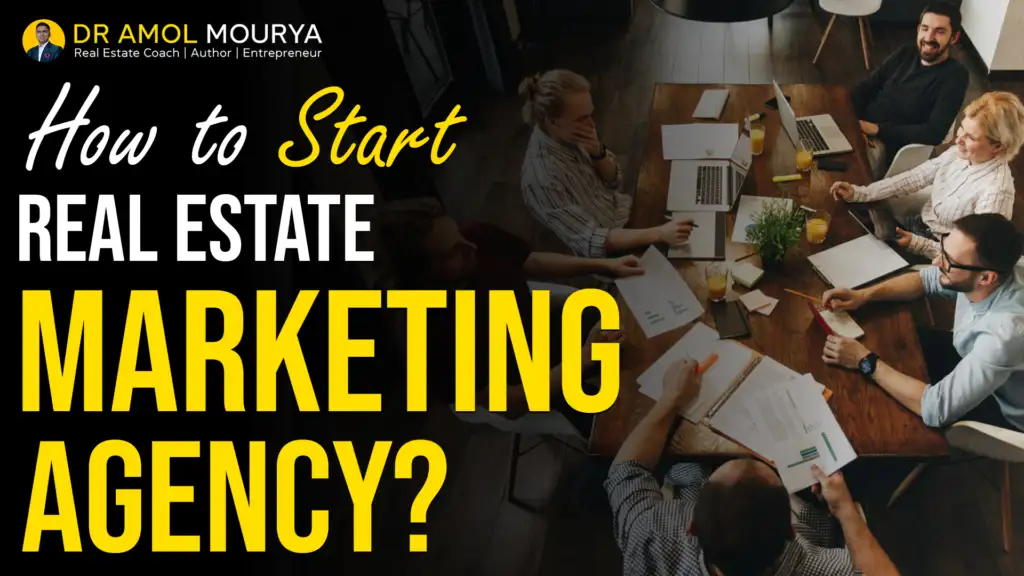 How to start a real estate marketing agency?
A real estate marketing agency is a marketing service provider specifically in real estate.
Services such as marketing and selling of real estate properties, assets, consultation, etc. 
They help buyers and sellers to find each other and work together to negotiate and close deals.
The majority of real estate marketing agencies operate as full-service firms, providing a broad range of services to their clients. 
Some of the most common services offered by real estate marketing agencies include:
– Research and development of marketing campaigns for real estate brands
– Preparation and execution of property listings
– Coordination of open houses
– Negotiation and closing of real estate transactions for their clients and business
– Real estate consultation
To start a real estate marketing agency business, you need to follow and understand the following steps:
1st start as a real estate agent
Collect capital and start leveraging
Build online and offline presence. Start Team Formation
Then do tie-ups and start selling
Start selling as fast as you can and start delivering results
Start As A Real Estate Agent
Start working as a real estate agent/realtor/consultant at a company or business the real estate.
The business could be a developer, builder, marketing agency, etc. These are the most known real estate business.
Here, you will learn the core concepts of real estate. At the same time, you can practice real estate agent skills.
After good practice as a real estate agent or consultant and gaining experience.
You need to earn a good amount of money and save some of it for future growth and investment.
This experience and practice as a real estate agent will be helpful to you for start a marketing agency.
Collect capital and start leveraging
As I mentioned above become an agent and start to make money out of it.
Now, it's time to make more by setting self-targets. As much as you achieve your targets, you'll earn more. 
But now you have to focus on saving and investing that money. And control your spending on liabilities. Because in the real estate industry, with proper skills. 
It is easy to make but hard to maintain.
With your savings, you can use them for the power of leveraging the business.
If you are planning to start a real estate marketing agency. You are gonna need an office.
1st option is to buy office space. This option is for those who have long-term plans and a good amount to invest.
2nd option is rental office space, here you can spend your money on monthly basis. It is a cheaper and good way to start a marketing agency.
Why I am recommending the office? 
Because it has really good benefits. The benefits are as follows:
After hiring someone for your business, they will join easily.

They would have space to work.

They can organize meetings with their clients under your brand.

one roof to work together.

A place where you and your team members will enjoy, and work consistently.
Build online and offline presence. Start Team Formation
Build Online And Offline Presence. What Does It Mean?
An Online Presence. We Need To Establish Ourselves As A Brand. 
Present Yourself On Social Media. Share Your Knowledge. Your Work. Your Projects. Your Clients Testimonial.
In An Offline Presence, You Have To Market Yourself Through People. Your Audience. Deliver As Much As Quality You Can. Earn The Trust Of Clients, Normal People, And Other Businesses.
Start Collaboration With Others. Here Referral And Mouth Publicity Are Key. It Is The Base Of Your Marketing Agency Business.
Now, It's Time To Start Team Formation. How We Can Form A Team?
Show Them All Of The Above Things From Your Experience With Your Online-Offline Presence.
Prove To Them, With Their Career Will Be Sustainable. They Will Be Happy With You As Part Of Your Brand And Team.
Then do tie-ups and start selling
As For Now, You Are Reading This Means You Want To Start A Marketing Agency. 
And It's Good To Spend Time On Your Learning. 
Because The Person Who Learns More Earns More.
Come To The Point, It's Time To Start Doing Tie-Ups, And Brand Deals And Taking Some Responsibility.
With The Brand Deals And Tie-Ups, You Have Some Projects To Sell. It Can Include Townships, Apartments, Plots, And More.
Plan As Per Your Project. Start Targeted Ads. Generate Leads And Start Converting Them.
Do Proper Follow-Ups. Then Close As Many Deals By Giving Value To Both Your Customer And The Brand You Are Working For.
Start selling as fast as you can and start delivering results
Now, you have a team. You know how to plan all the stuff. You also have projects to sell.
So it's time to scale the things towards next level. 
Give tasks and targets to your team members. 
Like, for marketing: generating quality leads about X numbers.
For salespersons: Converting those leads into your potential customers and buyer. And closing Y's number of deals at the end of the month.
This is how we can start a real estate marketing agency. There is more say and write. But
now it's your turn to get inside this process. As you get started will understand problems and how to solve them.
Watch more! knowledgeful information in videos.
Follow Us To Get More Information Like This: