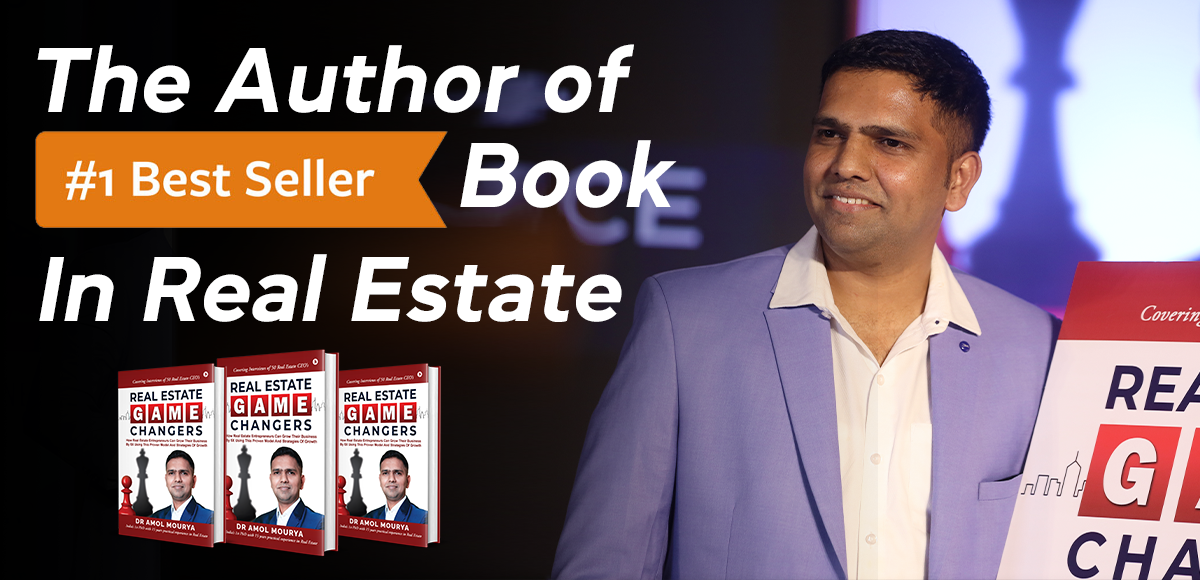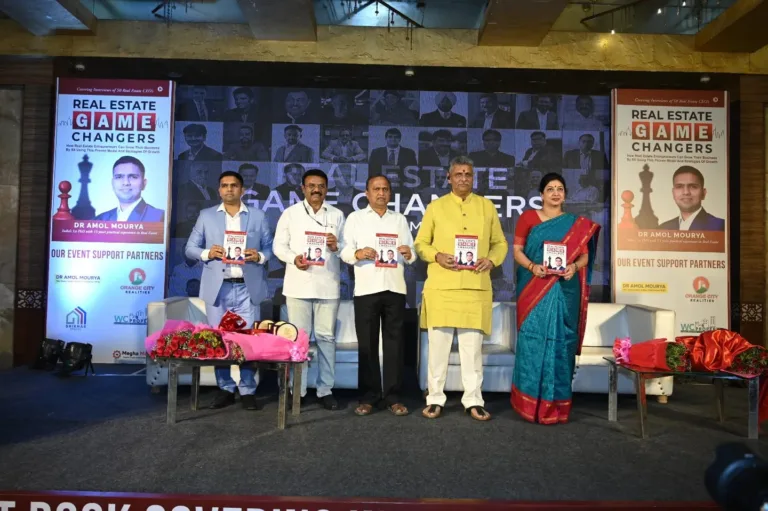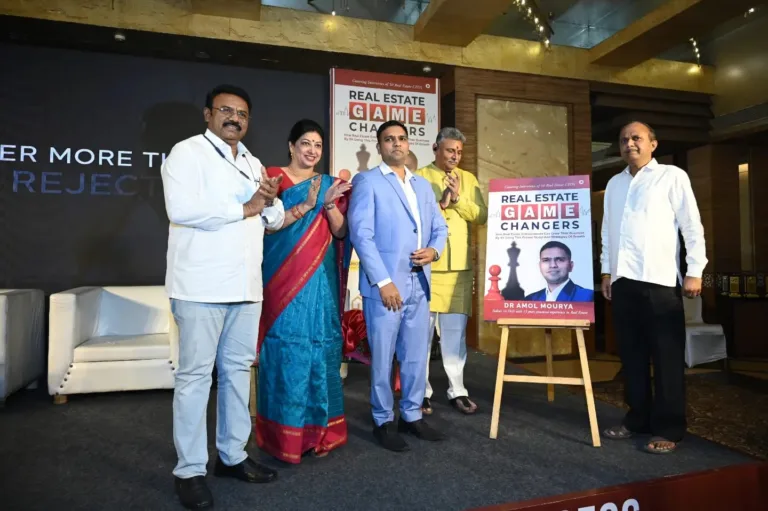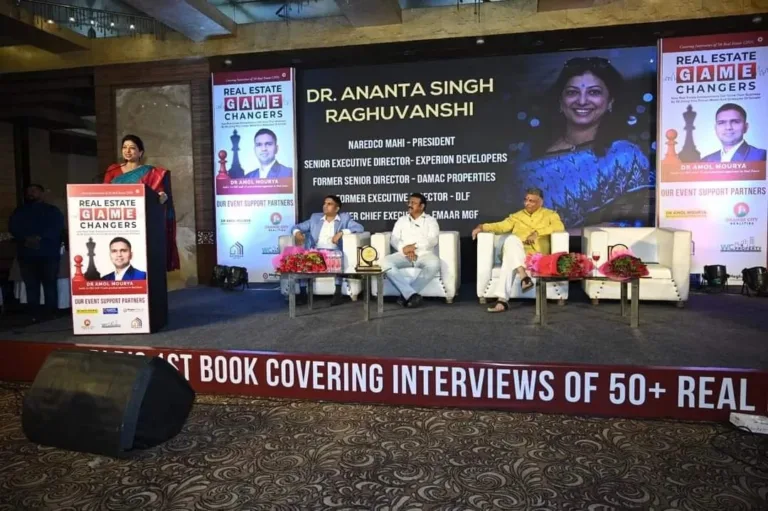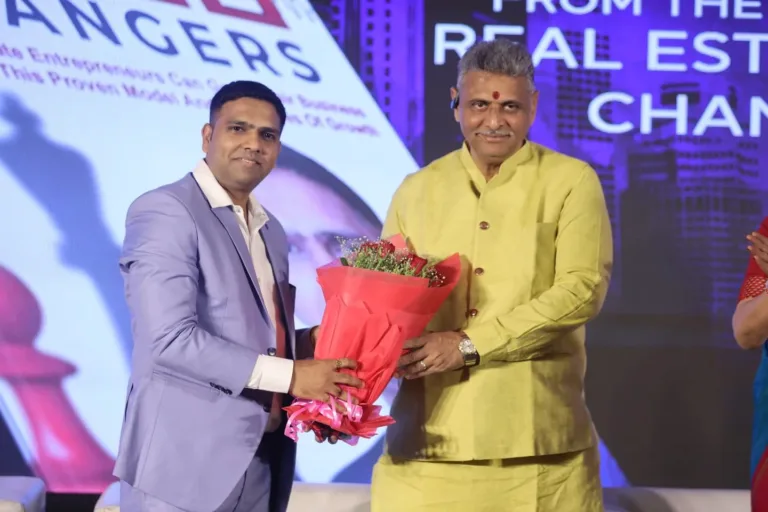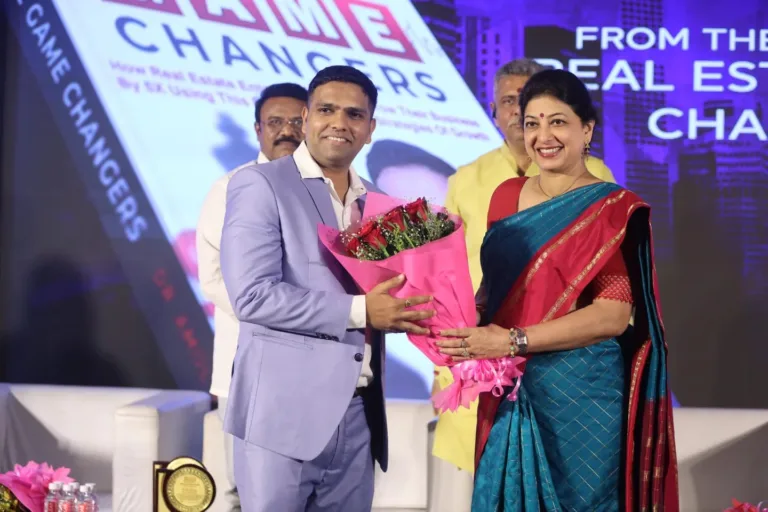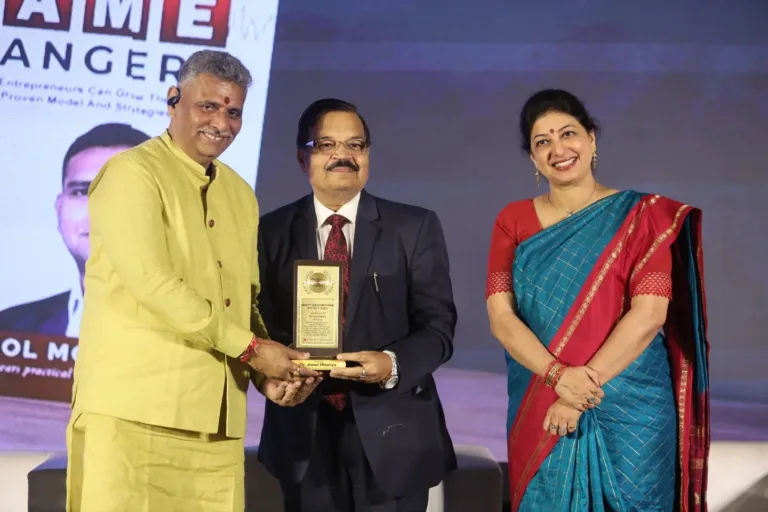 Real Estate Game Changers Book Launch: An Unforgettable Event with Distinguished Guests
We are proud to have hosted a successful book launch event for the Real Estate Game Changers Book, featuring exclusive interviews with over 50 real estate CEOs across Asia. The event was graced by esteemed guests, including Chief Guest Shri. Krupal Tumane (Member of Parliament), Keynote Speaker Mr. Rajan Bandelkar (National President NAREDCO & Founder and MD Raunak Group), Guest of Honour Dr. Ananta Singh Raghuvanshi (Founder and President NAREDCO – Mahi), and Dr. Amol Mourya (Author of Real Estate Game Changers Book).
During the event, our guests shared valuable insights and experiences about the real estate industry, providing valuable knowledge for entrepreneurs in the field. We are delighted to announce that the book is now available for purchase on Amazon, providing readers with a wealth of information and strategies to succeed in the real estate market. Don't miss out on this incredible opportunity to gain exclusive knowledge from the game changers of the industry! 💼📈🏢
The #1 Bestselling Book on Amazon for Real Estate: Real Estate Game Changers
We are excited to announce that our book, "Real Estate Game Changers," has become the #1 bestseller in the real estate category on Amazon! This world-first book features exclusive interviews with over 50 CEOs in the industry, making it a must-read for anyone interested in real estate. With insights from top experts and practical tips for success, RGC is a comprehensive guide for navigating the ever-changing world of real estate.
We want to thank our readers for their support in making this achievement possible. Order your copy now and take the first step towards achieving your real estate goals!
Join the many readers who have already benefited from this valuable resource. Stay up to date on the latest real estate trends and strategies with "Real Estate Game Changers.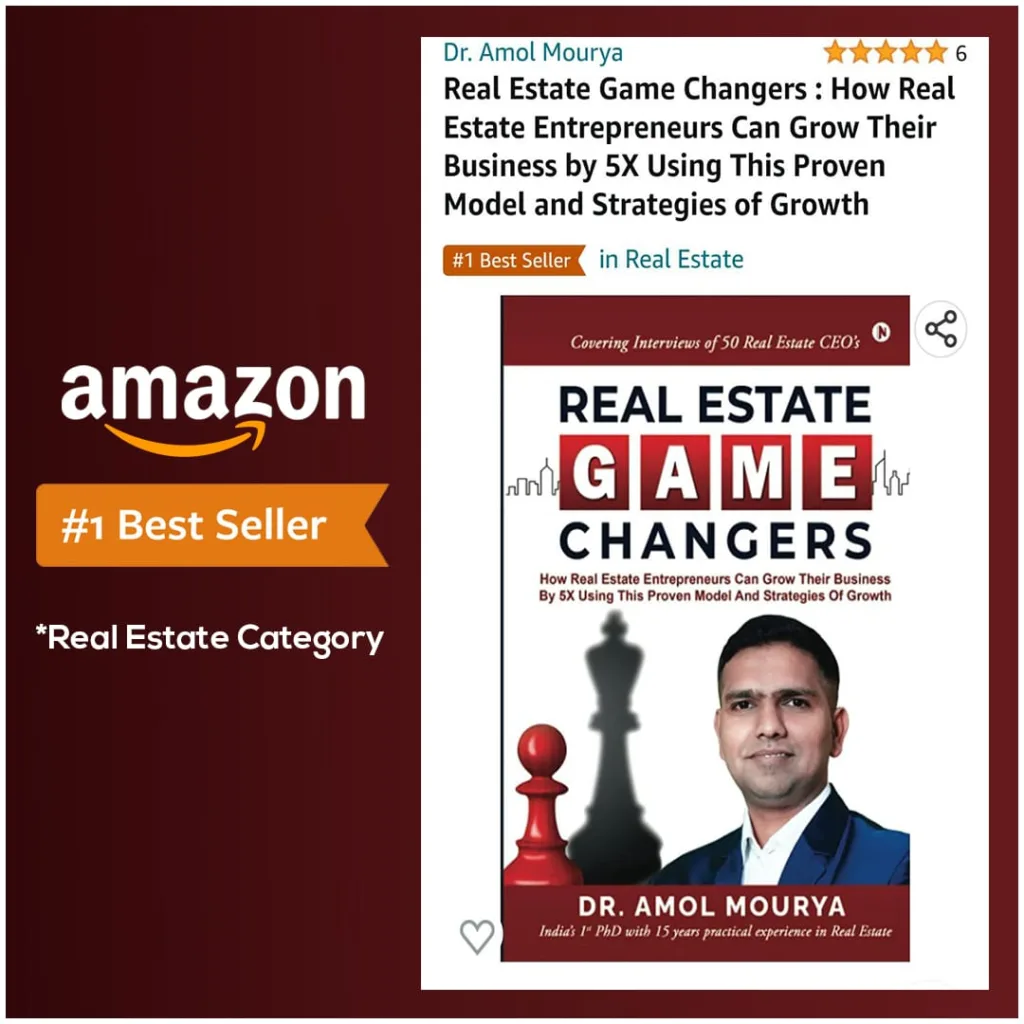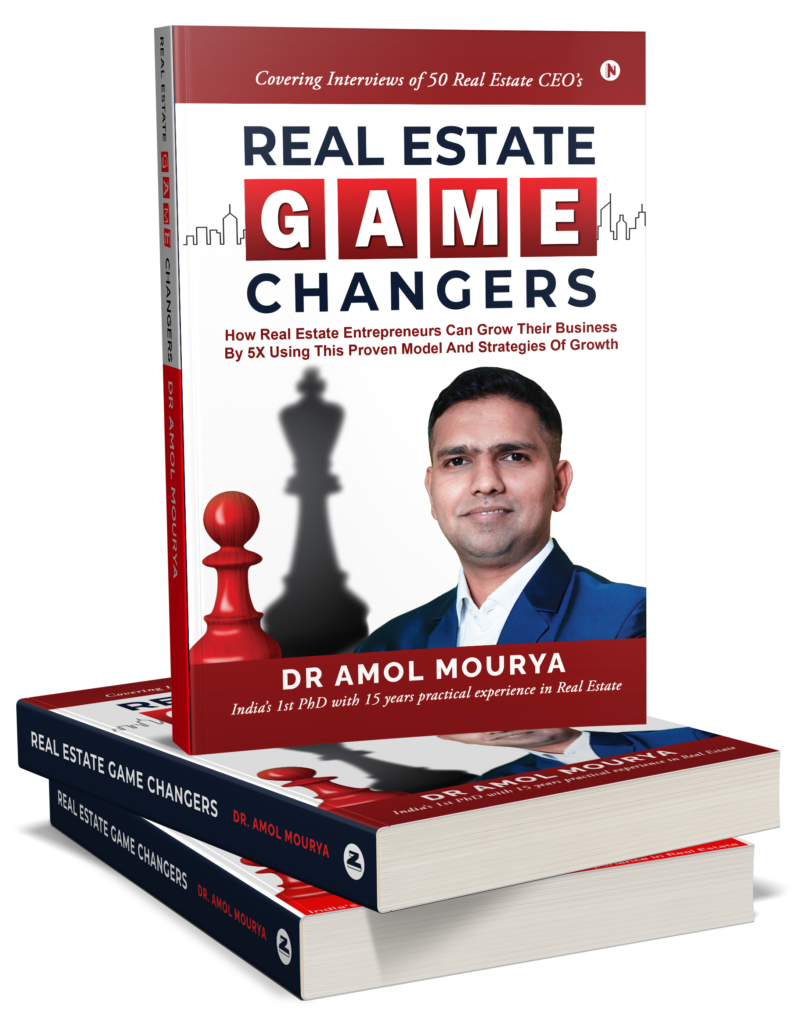 Are you ready to level up your real estate game? Look no further than "RGC: Real Estate Game Changers" by top real estate CEOs from across Asia.
In this book, you'll learn about the latest trends and innovative strategies for success in the ever-evolving real estate industry. From sustainability and social responsibility to the power of building a strong team, "RGC" covers all the essential topics for achieving long-term success.
But "RGC" isn't just about theory – it's packed with real-world examples and actionable advice that you can implement in your own real estate business. Whether you're just starting out or a seasoned pro, "RGC" will help you take your career to the next level.
So why wait? Order your copy of "RGC: Real Estate Game Changers" today and join the ranks of the most successful real estate professionals in Asia.
Real Estate Game Changers Feedback From Real Estate Leader
LIST OF ALL 50+ cEO INTERVIEWS
Why most of the real estate builders, developers, marketing agencies and investors are not growing ?
"Dr Amol Mourya Is One Of India's Leading Real Estate Coach And 1st PhD In Consumer Buying Behaviour In Real Estate With 16+ Years Of Practical Experience In Handling 3 Real Estate Companies"
A Real Estate Business Coach, Trainer And Entrepreneur.
He Is The Founder And CEO Of 3 Real Estate Companies I.E., Win-Win Training, Earth Interiors And WC Properties. He Has Completed India's First Ph.D. In Consumer Buying Behavior In Real Estate And Was Also Awarded As A "National Level Merit Scholar By IOCL. He Is Been A Trusted Advisor For Over Top 100 Corporate Clients, Also Took Training In More Than 50 Cities In India. Holding 16+ Years Of Experience In Real Estate Training, Coaching, Business System Formation And Team Building
He Has Trained More Than 200,000 People Till Date. Soon I Am Unveiling My First Book On Real Estate Which Is Titled As Real Estate Game Changers(RGC) The Reason For Writing A Book On RGC Is Because We Want To Empower 2 Lakh Of Real Estate Entrepreneurs In The Next 10 Years By Interviewing Top 50 CEOs In India, So That Their Practical Knowledge And Strategies Can Be Shared With The Upcoming Breed Of Real Estate Entrepreneurs.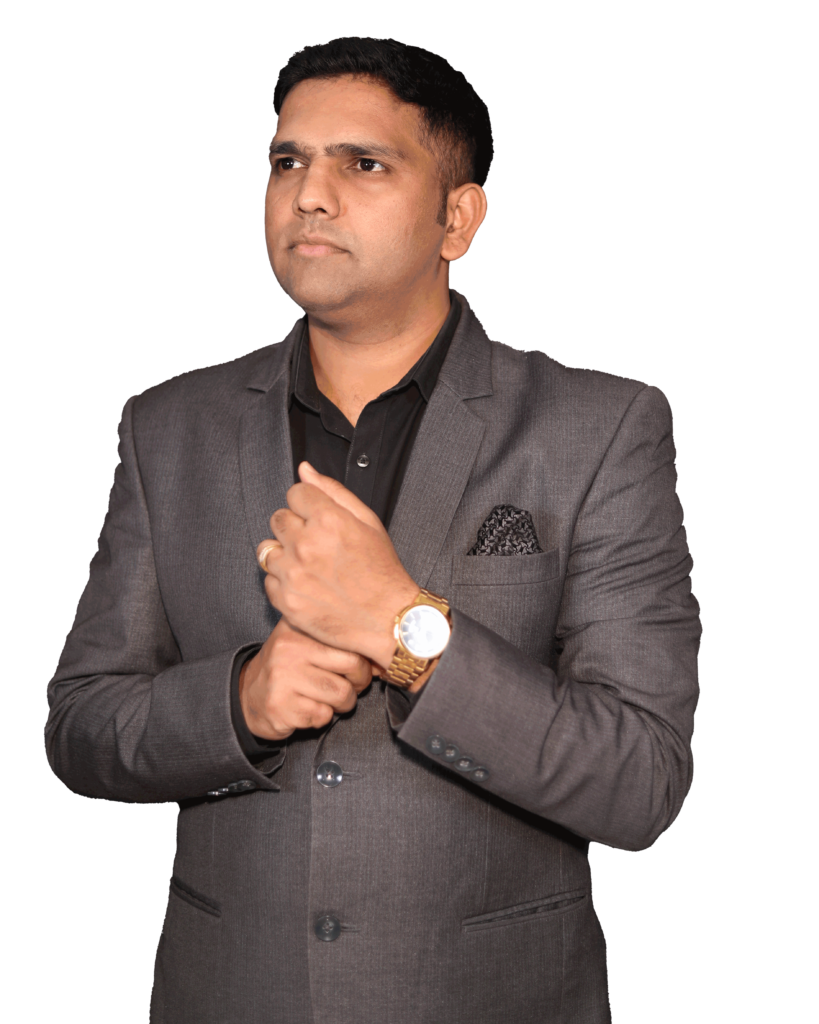 1st PhD in Consumer Buying Behaviour in Real estate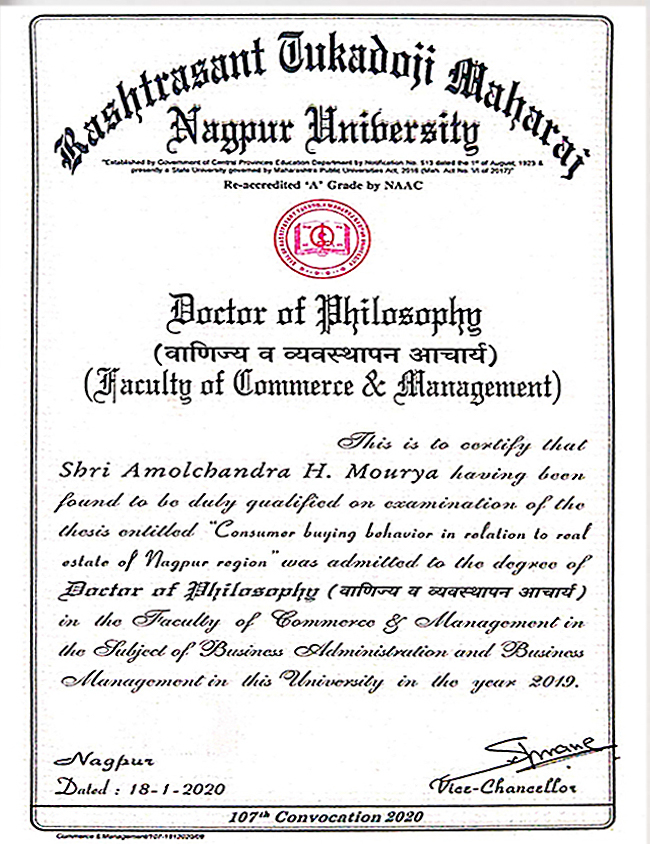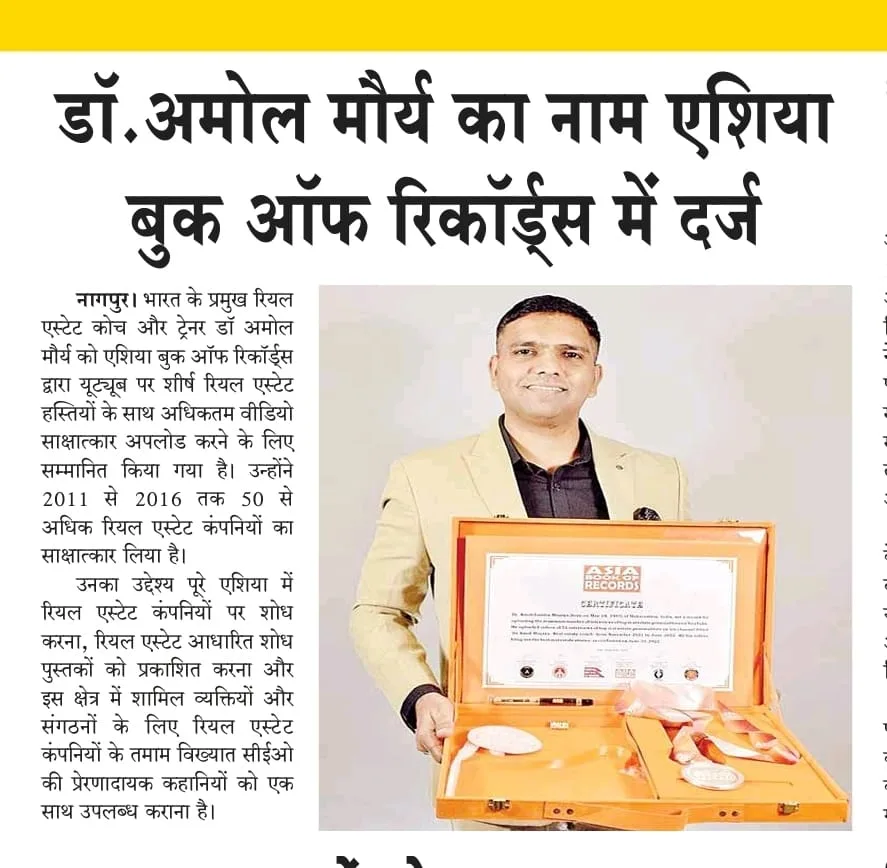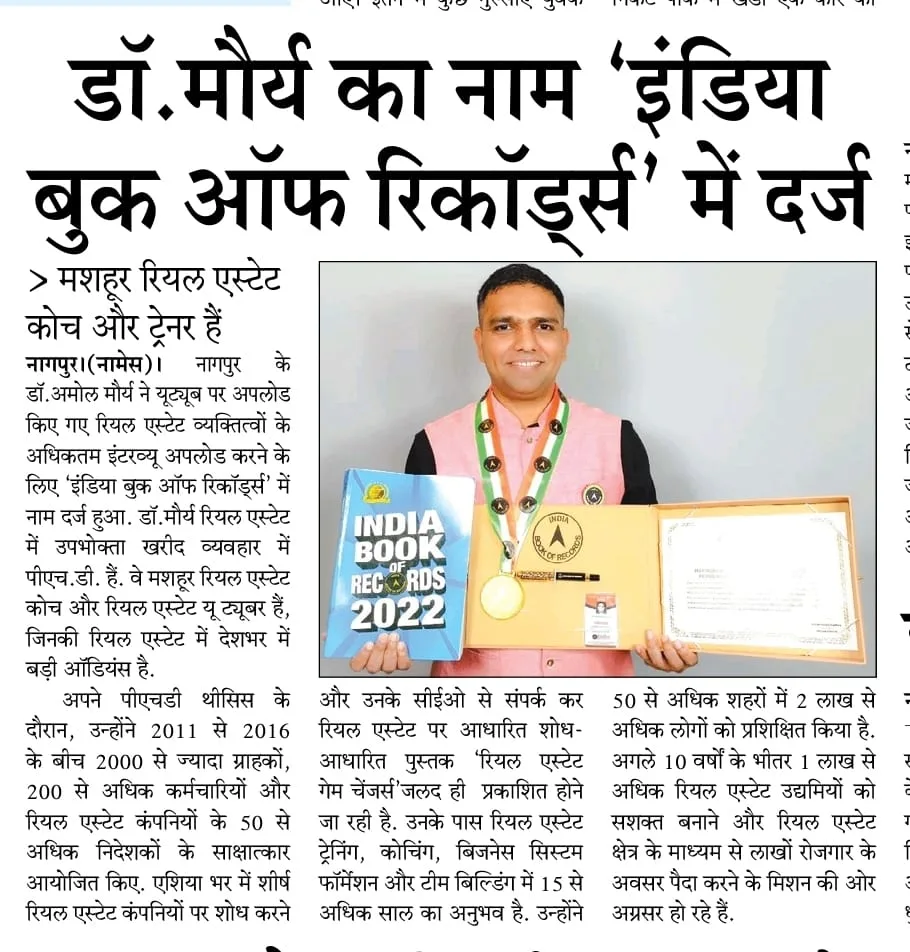 Contact No : +91 8087010150
Mail : dramolmouryaa@gmail.com
Address : Swaraj Colony, Building No. 28/7-4, behind Medical College, near Ajni Police Station, Nagpur, Maharashtra 440027